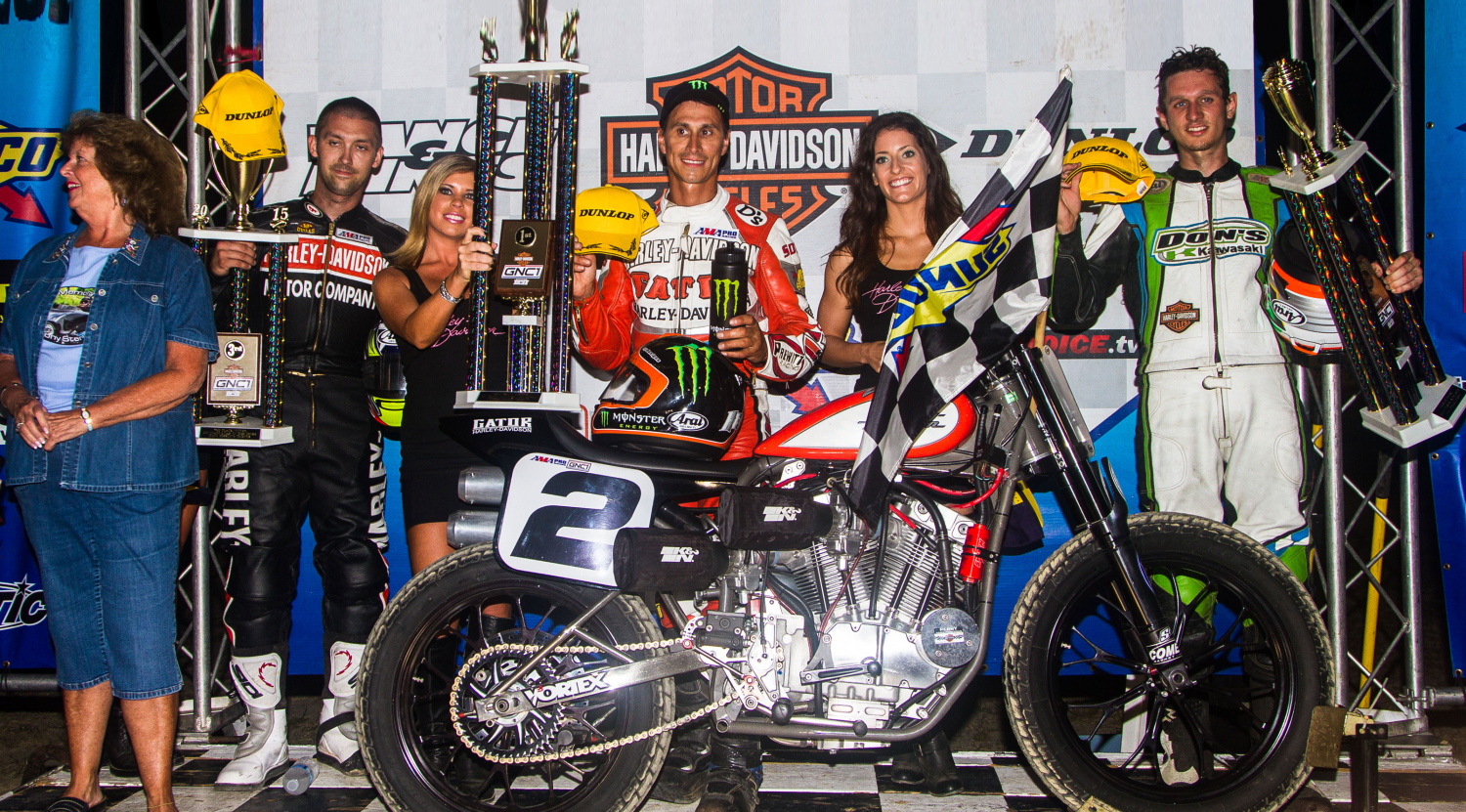 Flag-to-flag coverage of this year's Roar on the Shore from Delaware International Speedway will air TODAY on MAVTV as the third AMA Pro Flat Track broadcast in this season's Suzuki Presents SPEED SPORT television series. The one-hour broadcast will air twice, once at 4:00 p.m. ET (1:00 p.m. PT) and again at 7:00 p.m. ET (4:00 p.m. PT).
The one-hour broadcast will feature highlights from the heat races, semis, Dash for Cash, as well as main event coverage for both AMA Pro Flat Track classes. To conclude the show, the Harley-Davidson GNC1 presented by Vance & Hines main will be featured in flag-to-flag coverage. The media arm of SPEED SPORT will expertly repackage footage originally captured during the FansChoice.tv live streaming broadcasts, adding race commentary by Ralph Sheheen and Scott Russell.
The final round of the 2015 AMA Pro Flat Track calendar will also be included as part of the SPEED SPORT television series on MAVTV on Dec. 17, 2015 when the Flat Track Season Finale from Las Vegas is aired.
To locate MAVTV on your TV service provider, please visit the MAVTV Channel Finder.
About SPEED SPORT:
SPEED SPORT seeks out the best of motorsports action and showcases racing that features midgets, modifieds, off-road trucks, and two wheeled action racing on dirt, pavement, and water, sometimes all of the above. For more information, please visit https://www.nationalspeedsportnews.com/.
About AMA Pro Flat Track:
AMA Pro Flat Track is the world's premier dirt track motorcycle racing series and one of the longest-running championships in the history of motorsports. Sanctioned by AMA Pro Racing in Daytona Beach, Fla., the series is highly regarded as the most competitive form of dirt track motorcycle racing on the globe. For more information on AMA Pro Flat Track, please visit www.amaproracing.com/ft/, follow us on Twitter, like us on Facebook or live stream the on-track action on FansChoice.tv.
Learn more TUNE-IN ALERT: AMA PRO FLAT TRACK AIRS TODAY ON SUZUKI PRESENTS SPEED SPORT ON MAVTV on VANCE & HINES NEWS