Courtesy of NHRA | Kevin McKenna, NHRA National Dragster Senior Editor
The new Harley-Davidson FXDR Pro Stock Motorcycle makes its official NHRA debut this weekend with riders Andrew Hines, Eddie Kraweic, and Angelle Sampey.
It's hard to imagine that a team that's won five of the first seven races of the season would want to make a major change at mid-season, but the Vance & Hines Harley-Davidson team didn't get to where they are by being stagnant. With riders Andrew Hines and Eddie Krawiec comfortably seeded in the top two spots in the Countdown to the Championship, and new addition Angelle Sampey solidly in the top ten, the team is rolling out their new FXDR Pro Stock Motorcycles this weekend at the Dodge Mile-High Nationals presented by Pennzoil.
At their last outing in Norwalk, Hines and Kraweic raced in the final. Since then, the Vance & Hines crew has worked feverishly to finish their three bikes in time for the Western Swing events in Denver and Sonoma. Two of the bikes were ready in early July so Krawic and Sampey made a few test runs at Lucas Oil Raceway Indianapolis on July 4. They were encouraged by the results. The FXDR is the fourth factory Harley-Davidson model that has been adapted for NHRA Pro Stock Motorcycle competition joining the V-Rod, Night Rod, and Street Rod, and Hines believes it will be their best.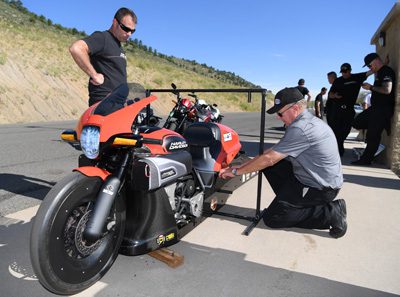 We found out more than a year ago, April actually, that Harley-Davidson was looking to make a change to their Pro Stock Motorcycle program," said Hines. "After that, we put together a time table to get the bodies designed, approved by NHRA, and then built to run. This is a big deal for our program to be racing a model that Harley-Davidson wants to push in front of the NHRA crowd.
The Harley-Davidson Street Rod made its debut at the 2017 Englishtown race and since then, Hines and Krawiec have combined to win 16 events. Krawiec also rode the bike to the 2017 Mello Yello championship. Hines doesn't expect a lengthy adjustment period for the next FXDR, since they are fitted to the existing chassis, that is built in-house at the Vance & Hines shop in Brownsburg.
"It's just all new carbon fiber," Hines said. "The chassis are the same. Aerodynamically, we think these bikes are very similar to the Street Rod. There is a negligible difference, mostly because the FXDR bikes have a bigger front fairing. They push the same amount of air as the Street Rods, but less of it is on the rider. We also don't have any data on the airbox. Sometimes, that requires a little different tuning. So, not only do we have to deal with the air here in Denver, but we're not sure what this new bike wants. That's a bit of a concern but we'll get it figured out."
Sampey is looking forward to racing the new FXDR, perhaps even more than Hines and Krawiec. It's not been a secret that she's had a steep learning curve this year since she began riding the Street Rod bike. The additional frontal area of the FXDR should be a benefit to the three-time world champion.
"The Street Rod felt wide and flat and we had to work hard to make me comfortable," said Sampey. "The tank was also a little high and that made it tough for me to get tucked. This new [FXDR] suits me. I could tell the first time that I sat on it, I was going to be more comfortable. I made three nice runs in testing and that gives me a lot more confidence for the rest of the year."
As an aside, the bikes that Hines and Krawiec are riding are painted in the traditional orange and black Harley-Davidson colors while Sampey's bike is adorned with a 2020 factory color known as Barracuda silver.
Any concerns that Hines may have had about racing a new and un-tested bike were answered during Friday's opening qualifying session where Hines was both quickest and fastest with a 7.232 at 186.20 mph. Jerry Savoie was second-quickest with a 7.265 on his Suzuki.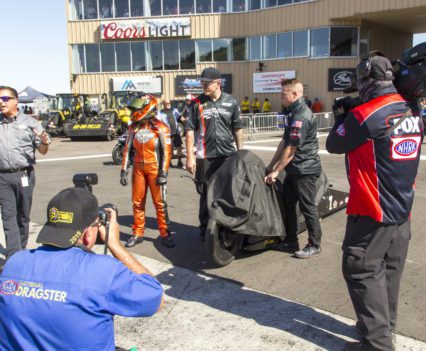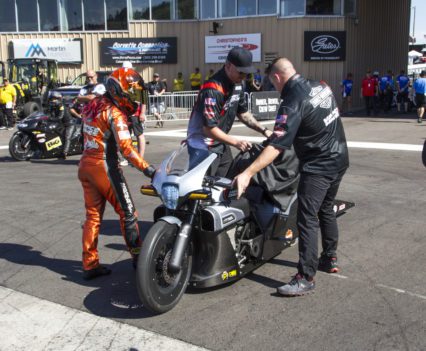 https://news.vanceandhines.com/wp-content/uploads/2019/07/2019_NHRA_DEN_FRI-07.png
https://news.vanceandhines.com/wp-content/uploads/2019/07/2019_NHRA_DEN_FRI-07.png
 Matt Polito / mattpolito.com
Learn more VANCE & HINES HARLEY TEAM DEBUTS NEW FXDR-BODIED PRO STOCK MOTORCYCLES on VANCE & HINES NEWS