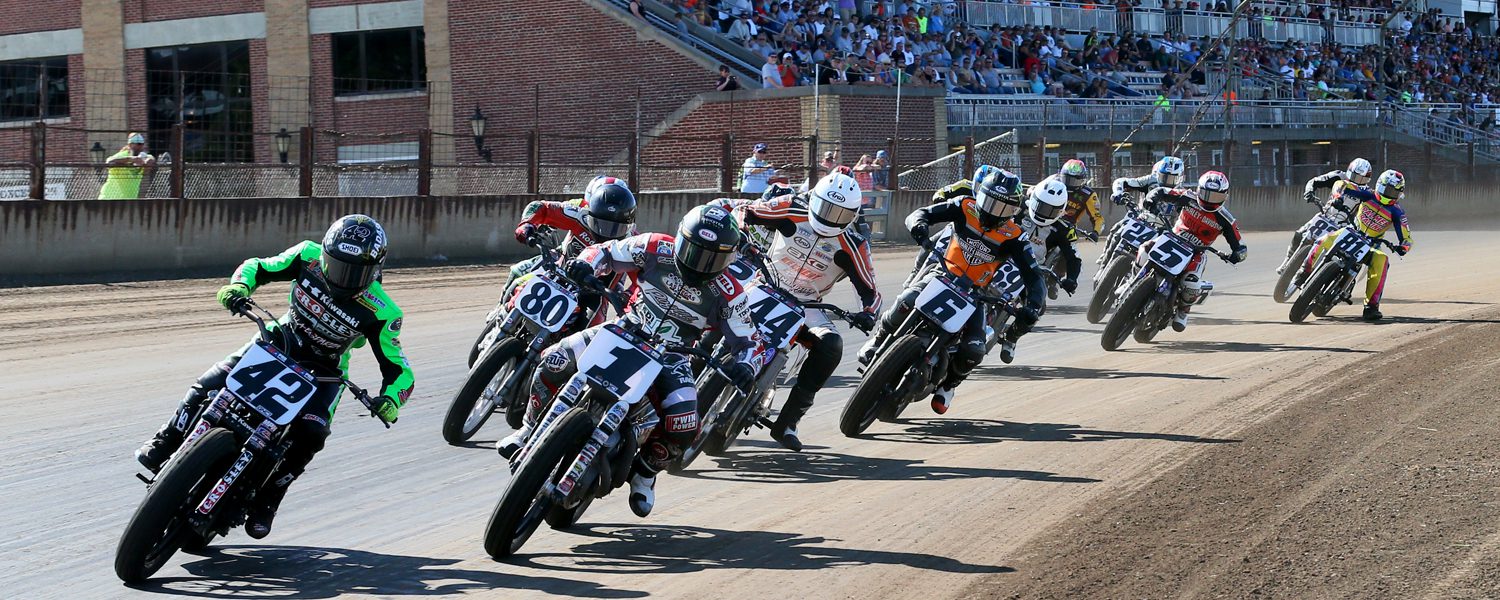 Courtesy of AMA Pro Racing
American Flat Track proudly announces a renewed, multi-year partnership with Vance & Hines as the Presenting Sponsor of the premier AFT Twins class. Beginning with the 2017 season, the class, which headlines the re-envisioned series and continues the legacy of the Grand National Championship, will now be known as AFT Twins presented by Vance & Hines.
"Vance & Hines' involvement in American Flat Track racing has been tremendous," said Michael Lock, CEO of American Flat Track. "Their continued support and willingness to help grow this high-intensity sport is greatly appreciated and we look forward to having them return for another season."
A company born from racing, Vance & Hines grew to be a leader in aftermarket motorcycle parts, from its distinctive V-twin exhaust systems to a wide range of products across the powersports world. The American manufacturer has been involved in a variety of motorcycle racing disciplines, NHRA Pro Stock Motorcycle, AMA Superbikes, and more recently professional Flat Track racing. In 2014, Vance & Hines became the Presenting Sponsor for the former GNC1 class – now AFT Twins. The company was eager to offer their support of the new, golden era of American Flat Track and is excited to be a part of the sport's expansion.
"There's never been a better time to be involved in Flat Track racing," said Terry Vance, Chairman of Vance & Hines. "The sport is growing rapidly, and more and more you see the youth in America buying all brands of 750cc twin-cylinder motorcycles. At Vance & Hines, we want to be out in front of that movement and, in my opinion, there's no better place to do that than American Flat Track. We're proud to return for the third year as the presenting sponsor of AFT's premier class."
For more information about Vance & Hines, please visit their website at vanceandhines.com.
American Flat Track will kick off the 2017 season during Daytona's Bike Week festivities on Thursday, March 16 with the all-new DAYTONA TT, built inside the tri-oval at Daytona International Speedway. The DAYTONA TT will mark the dawning of a new era for America's most historic form of motorcycle racing, and the "World Center of Racing" will serve as the first battleground for the great American war between Harley-Davidson and Indian Motorcycles in 2017. Tickets for the DAYTONA TT are now on sale and can be purchased at daytonainternationalspeedway.com.
How to Watch:
NBCSN and FansChoice.tv are the official homes for coverage of American Flat Track events. All 18 rounds, from the season-opening DAYTONA TT to the American Flat Track Finals in Southern California, will air in one-hour, tape-delayed telecasts on Thursday nights throughout the summer and fall on NBCSN, while FansChoice.tv provides live streaming coverage of American Flat Track events. FansChoice.tv also provides coverage of IMSA's development and single-make series, and NASCAR's touring and weekly series. Catch all the action at nbcsports.com and FansChoice.tv.
About Vance & Hines:
Vance & Hines is an American manufacturer of aftermarket motorcycle performance parts with factories in Santa Fe Springs, California and Brownsburg, Indiana. While we are best known for our distinctive exhaust systems for big twin cruisers, you may be surprised to know that we also make a wide range of parts and accessories for nearly every form of vehicle in the powersports world. The company's founders, Terry Vance and Byron Hines shared a passion for the quarter mile from the early days of motorcycle drag racing. But they also shared a vision of creating a company that would be a pillar of the motorcycle aftermarket, and they used their unrivaled achievements in racing to build a brand that would unmistakably stand for quality and performance. This same formula drives Vance & Hines today, from our continuing involvement in many disciplines of racing to our commitment to making the kinds of products that get people excited about motorcycling. From metal forming to smartphone-driven electronics, we believe pushing the envelope for design and technology is the way forward. At the end of the day, our goal is not just to make an American-made product, but to create products that inspire motorcyclists around the world. For more information, please visit https://www.vanceandhines.com/.
About American Flat Track:
American Flat Track is the world's premier dirt track motorcycle racing series and one of the longest-running championships in the history of motorsports. Sanctioned by AMA Pro Racing in Daytona Beach, Fla., the series is highly regarded as the most competitive form of dirt track motorcycle racing on the globe. For more information on American Flat Track, please visit americanflattrack.com, follow us on Twitter, like us on Facebook, live stream the events at FansChoice.tv and catch all the American Flat Track racing action on NBCSN.
Learn more VANCE & HINES NAMED PRESENTING SPONSOR OF AFT TWINS CLASS IN MULTI-YEAR RENEWAL WITH AMERICAN FLAT TRACK on VANCE & HINES NEWS