Courtesy of Cycle Drag
If you are a fan of razor-close, compelling, thrilling championship battles, (who isn't?), Vance & Hines-backed Top Fuel Harley veteran Doug Vancil's victory at the 38th annual Lucas Oil NHRA Nationals at Brainerd International Raceway, the series' penultimate event, was a reason to rejoice as it once again set the stage for a rousing championship finish at the U.S. Nationals between Vancil and defending class champion, Spevco and Samson-backed Tii Tharpe.

Vancil's 6.25 to 6.53 final round victory over Tharpe in Brainerd, the multi-time AHDRA and IHRA champion closed the points gap to just 27 heading into the Labor Day showdown at Lucas Oil Raceway.
At last year's "Big Go" these two v-twin stalwarts kept two-wheel fans on the edge of their seats for the entire weekend, taking their championship battle all the way to the final round for a winner-take-all showdown. A promoter, fan, organization and several others dream of this scenario at the beginning of the season. It's drag racing's version of a game 7. It's exactly the type of hype and fan interest those involved welcome.
Last season Tharpe came away with the championship by a mere seven points. The entire weekend was filled with drama and intrigue, loaded with high stakes qualifying and last minute lane swaps. Just like in a game seven where every pitch or every shot on goal is incredibly significant and analyzed, every slight Nitro tuning adjustment comes with momentous importance.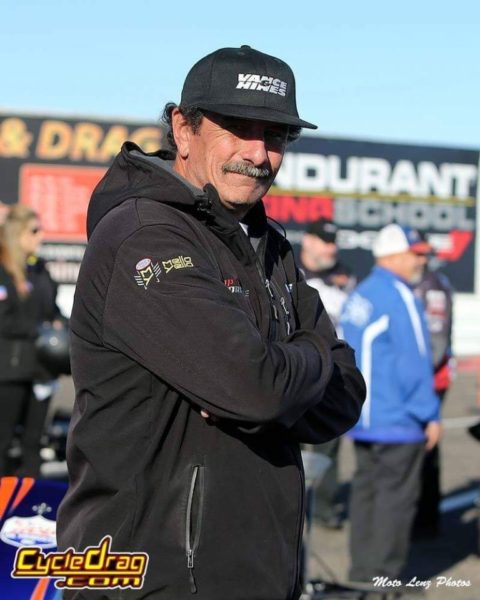 teams are with some of the most skilled and experienced tuning the sport has to offer, with Vancil guided by veteran racer and tuner Mike Romine and Tharpe backed by the entire brain trust at Jay Turner Racing including accomplished crew chief Rex Harris. The fact that these two talented teams don't care much for each other, perhaps an understatement, makes the rivalry that much more compelling. It's like the Yankees and Red Sox fighting for the American league title.
The ambiance of what NHRA appropriately bills as it's most important race is something that can be debiliating for some. NHRA champion team owner and racing phycologist George Bryce used to plead with his racers to treat the illustrious Indy event like any other event, preaching to his riders, "The motorcycle, gas, helmets and leathers don't know it's the U.S. Nationals, only you do."
It's great advice. The only problem is it's easier said than done when you are on the line in front of 40,000-fans and all your major sponsors with a championship title hanging in the balance.
Vancil and Tharpe are two of the most mentally strong competitors in the sport, and despite, perhaps some heavy breathing and sweaty palms in the staging lanes, don't count on either one of these uber focused and competitive pilots to choke.
Tharpe aims to repeat while Vancil looks for his first title since returing from his decade-long hiatus. Who are you picking to win this year's championship?
Recap Of Last Season's Battle –
Motorcycle drag racing legend and class advocate Terry Vance will be on hand pulling for team Vance & Hines