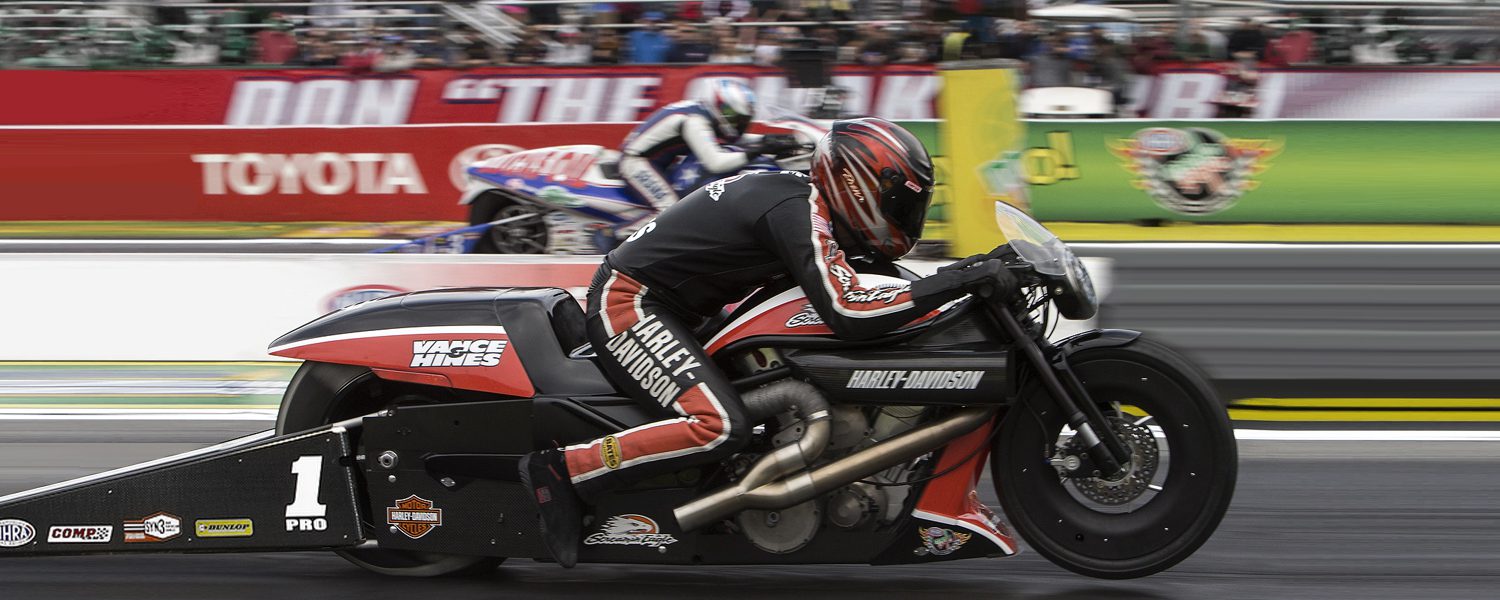 Courtesy of Eat My Ink
Story, video and photos by NHRA, Tim Hailey, and team reports

Eddie Krawiec and Andrew Hines get ready to shut the visors at zMAX last year. Can anyone stop this juggernaut team?
Andrew Hines will start the 2016 NHRA Mello Yello Drag Racing Series Pro Stock Motorcycle season firmly focused on going after his third straight (fifth overall) world championship. But another major accomplishment and one of the great, noteworthy NHRA milestones remains in the form of the first 200 mph pass in Pro Stock Motorcycle. That mark appears within reach in 2016 and Hines predicts fans won't have to wait long to see it.
"I think we'll see that sitting on a scoreboard somewhere early in this year," Hines said in reference to the 200 mph speed. "It could be one session where you might see two, three, maybe even four motorcycles run over that 200 mph mark and it might just stack up on who goes out first that qualifying session. It could be as exciting as that, or heck, you might see maybe the last two bikes of a certain session put it up side by side. That would be pretty spectacular. We are all looking for it. I know a lot of us motorcycle guys have been trying to get it the last couple years. It's just a matter of all the stars aligning correctly and finding that couple horsepower that we all need to push us to that next threshold."
Hines' 3X national champion teammate Eddie Krawiec doesn't think it will be so easy. You can hear him talk about it in this video:

In addition to who will run the first 200, the other burning question for 2016 is "Who'll stop the Reign?"—Hines' and Krawiec's championship reign with the Vance & Hines Screamin' Eagle team.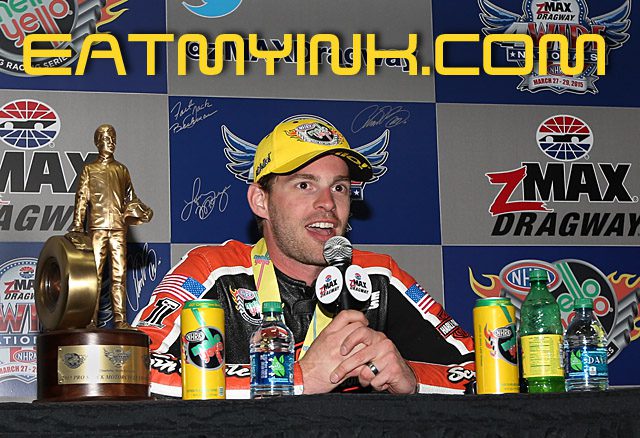 Hines in a familiar situation—hanging with his buddy Wally at the winner's interview
But Hines still feels his team has the upper hand for both the championship AND the 200 mph lap. "I'm feeling pretty confident about what we have done here with our Harley in the off-season," said Hines, who earned four of his 42 career wins a year ago. "We're going to go test and hopefully we're going to reap our benefits for all the hard work we've put in over the off-season. When we get out there, I guess the time ticket is going to tell the truth, but we'll see what happens."
Hines says he's unfazed by the NHRA dropping the time-tested back-up rule for setting records, but you can expect him—and anyone who's bike wasn't the first to ring up the number—to have second thoughts. "No, I don't have a problem with the new backup rules or anything like that," said Hines. "Our timing system has become more consistent than it used to be. The biggest thing with the motorcycles is our speed has become way more consistent and predictable than what we have had in years past, and that's mainly due to what NHRA implemented for us having to use what we call a wheel shield or a staging beam on our front wheel. So it gives us a more consistent time. I would be a little bit upset if it didn't happen in my lane. I was the first one to run sub-seven seconds over ten years ago now, 2005. It would be really nice to have that chalked up on my scoreboard with the first six-second run and the first 200. Heck, if anybody other than me does it, it better be my teammates. So we've got to keep it in the family here."
Learn more WHO'LL STOP THE REIGN? on VANCE & HINES NEWS